Written on 12:28 AM by Penang Tua Pui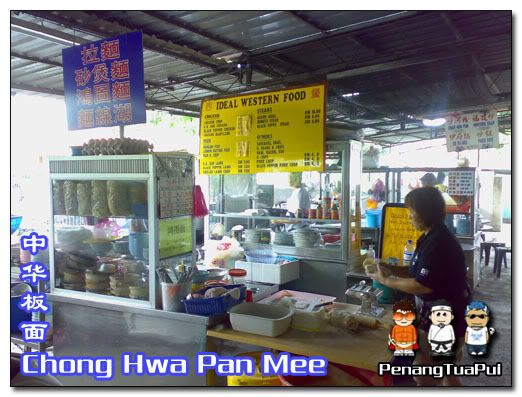 Fei Fei
told us this
Pan Mee
stall is quite popular within this area, especially among the students of nearby secondary school.
So today we
took the opportunity
to patron this stall while on the way to visit our friend who has just given birth. I was told the
chicken rice
at this
kopitiam
is also nice but we did not try it out.
Fei Fei
and
Huat Koay
ordered large one while I chose to settle with regular one. The
pan mee
is individually cooked, unlike the one at
Bukit Jambul
.
The noodles are
hand made
which the dough will be rolled repeatedly using the
pan mee
maker and flour is sprinkled onto the dough occasionally to maintain its
softness
. Once the required thickness is obtained, the dough is peeled into small pieces before cooked on boiling water.
The soup based
pan mee
is clear but has quite
strong flavor
, likely to have a lot of MSG added to the soup. The pan mee is also
quite smooth and soft
but if you happen to get the edge portions, it can be quite
thick and lumpy
as what
Huat Koay
got. In fact, he regretted ordering the large size pan me..
Haha.
You get some anchovies, shredded mushrooms, minced meat and leaves but there is not many ingredients after all… the
main portion of noodles
will be quite generous but not other ingredients
The stall is open daily from
7am till 2pm
. Each large bowl cost
RM3.00
while the regular one is
RM2.50
. Additional
RM0.50
if you request to have egg added.
Map
View Larger Map
Read more on "Penang Food: Pan Mee - Island Park, Greenlane"...