Written on 10:46 AM by Penang Tua Pui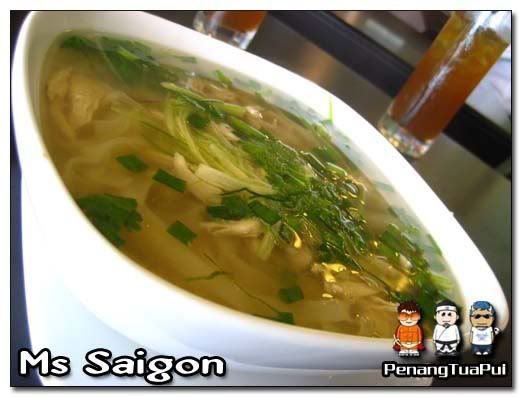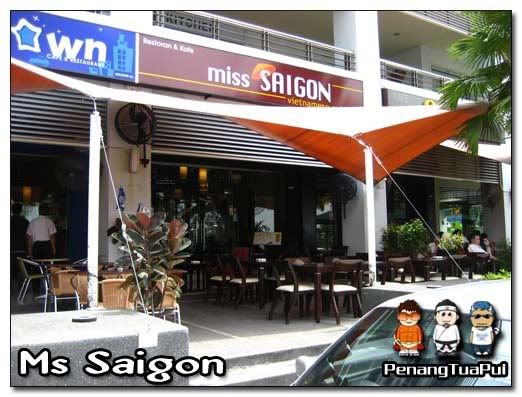 In one of the
feng shui
talks we attended at the
E-gate Starbucks
some time last year, the speaker mentioned of the auspicious place E-gate was going to be, being
able to attract businesses and making the place prosperous.
We were not sure if his claim was true because every time we went to E-gate,
there will be one new tenant replacing the old one.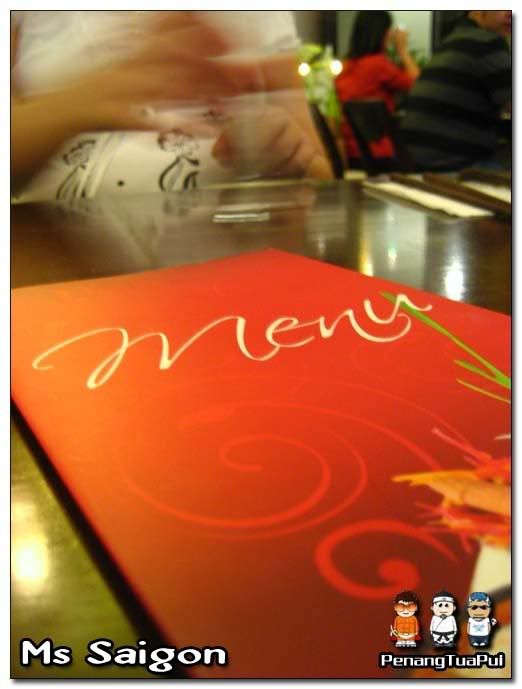 In this case, the
Vietnamese
restaurant
Miss Saigon
. The previous tenant was an Italian cuisine,
Bequadro Restaurant & Café.
This place was also reviewed by
Lingzie
before just a couple weeks back. The environment was quite
simple
and inclined to the restaurant theme with tables and chairs in
dark brown
, made of
wood instead of plastic or metal.
Miss Saigon also has
a lot of mirrors
hung along the wall, to create a larger space and more people effect.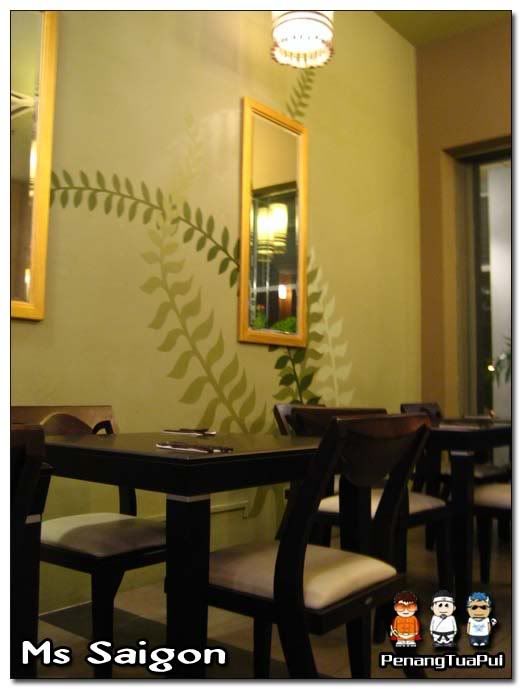 We
opted for set lunch
which consists of one main meal and a beverage. We ordered Traditional Vietnamese
Chicken Noodle Soup
,
Duck Breast
Skewer Wrapped in Pomelo Leaf and Special Fragrant Paste Wrapped in "
La Lot
" Leaf.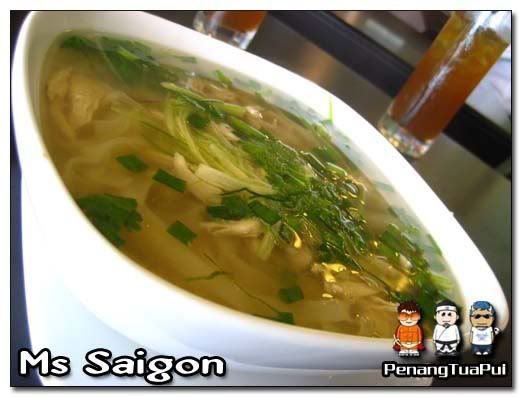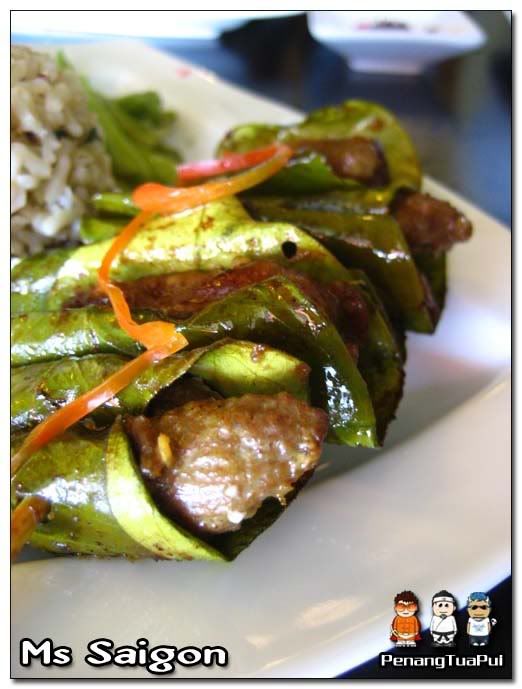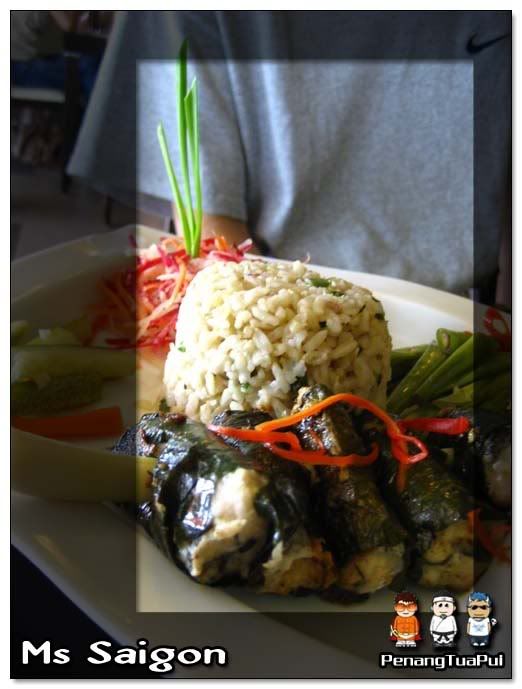 As for the beverage I ordered for
Instant Vietnamese Coffee
while Tam Ciak and Huat Koay ordered
Traditional Lemongrass Tea
.
Little did they realize they had ordered the
wrong drinks
thinking it was Ice Lemon Tea instead! It was hilarious watching them taking a sip of the lemongrass tea and their facial
expressions changed instantly
… hahahaha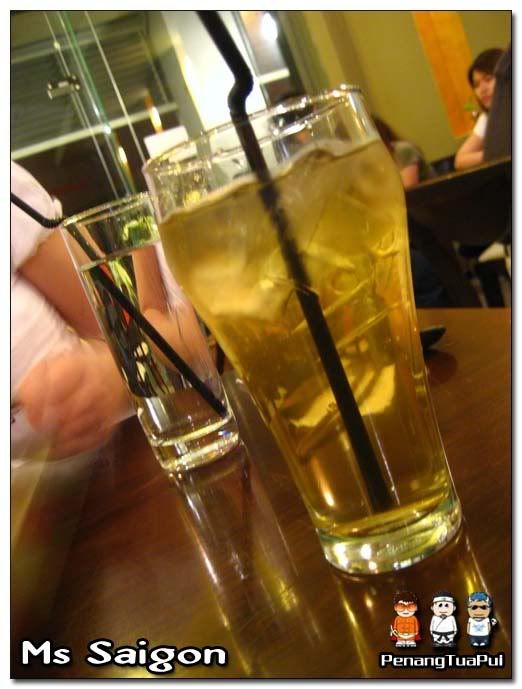 The noodle was more like
local koay teow th'ng
, much to our disappointment of craving for the real
Vietnamese noodle soup
.
The noodle came in a bowl of soup and the chicken meat while the
vegetables and bean sprouts
were put on
another separate plate
. You will need to add them into the soup before eating.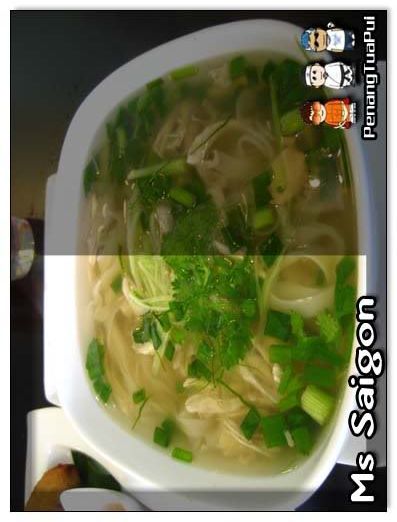 The
beans sprouts
we had
were not that fresh
as they started to
oxidize
, turning to brown and losing freshness as seen on the photos.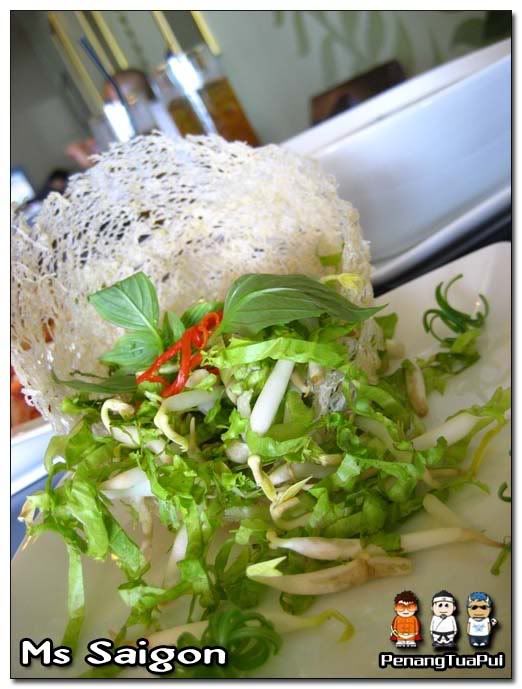 We were divided taste wise on the
duck breast skewer
as Fei Fei said they tasted good but Huat Koay's view was there was
strong ducky scent.
Special Fragrant Paste was good as the herbs
were not too strong and just nice to our taste buds
.
We did order a side dish called
Miss Saigon Platter
consists of 4 different types of Vietnamese popiah (rolls).
It is quite unique to have four
different flavors of Vietnamese rolls
we could try out but was curious us was that this side dish is more expensive than the set lunch we had.
A high class Miss Saigon, perhaps? ?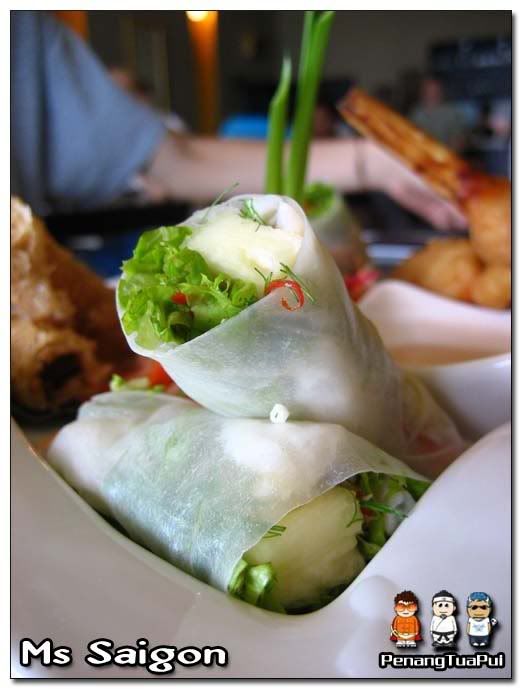 While we were
busy snapping photos
for our review, the supervisor (maybe it's the owner too) came near us and observed us. He was quite a
"busybody"
as well, keep looking into our LCD display every time we try to take the shots. And he was quite
chatty too
, keep talking to us all the time while we were snapping pictures.
Trying to publicize the restaurant, he promoted us to try their
Vietnamese apple pie dessert.
After some persuasion, we ordered one (was hoping he would give us
free of charge
!). The apple pie was an apple filling on top of croissant and shaped almost like shredded apple. It was delicious!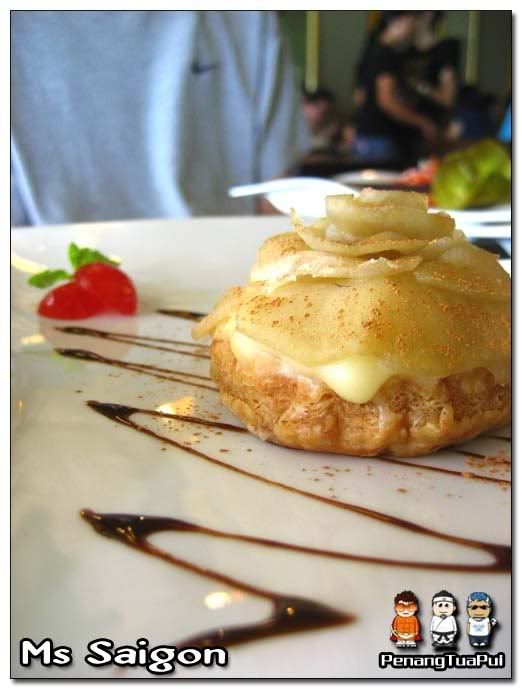 Our experience with the set lunch
was not to our expectations
though the dessert was quite a consolation. The ambience is quite relaxing which is preferable if you intend to have less noise environment.
Still we do hope for
something better
from this restaurant during our next patron. Perhaps it could be a different story if
we were to come for dinner
. Yea, we shall make a trip here for dinner next time ?
Miss Saigon is opened daily including weekends,
from 11am to 3pm
and from
6pm till 11pm.
MAP (
Navigate the map to get better view
)
View Larger Map
Interior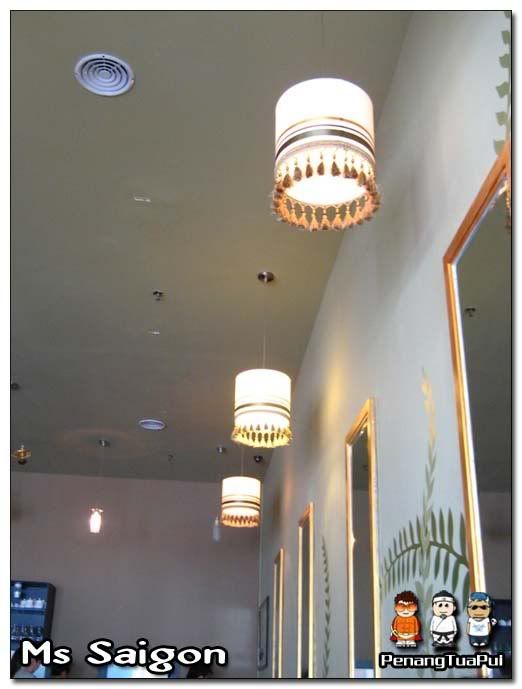 Other Dishes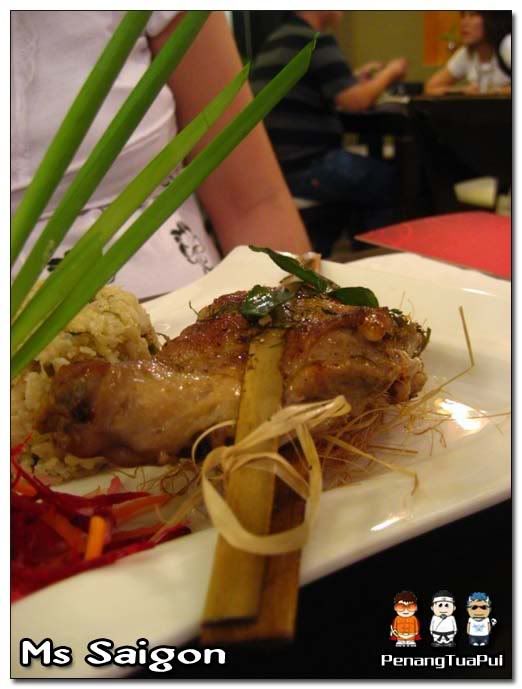 Read more on "Vietnamese Cuisine - Miss Saigon"...