Written on 8:51 PM by Penang Tua Pui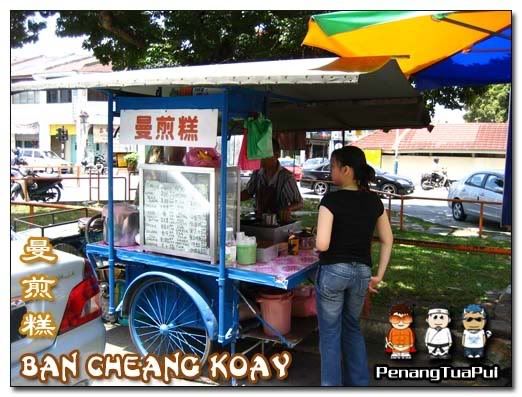 After
curry mee
at Weld Quay, we moved to
Oo kio
next door and then head over to Cintra Street
Eiu Char Koay
before arriving at 4th stop,
Ban Cheang Koay
.
This
Ban Cheang Koay
or pancake is the smaller version, not the one which is normally cut into 12 pieces.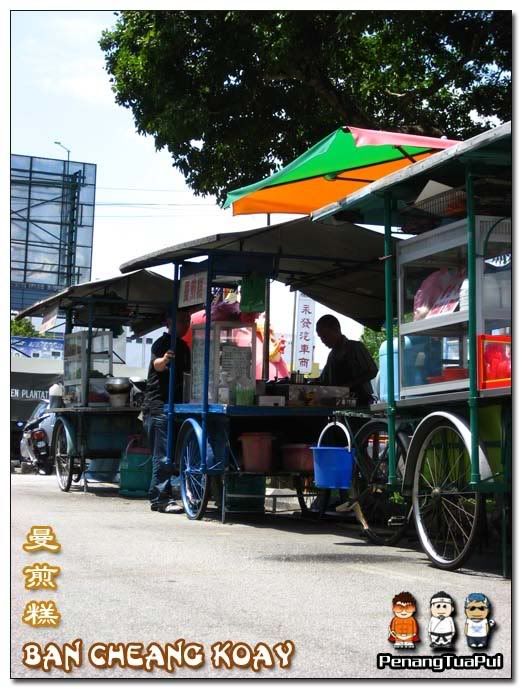 This
Ban Cheang Koay
stall is opposite
Anson Road Market
and located next to
Lok Pin Café.
There is a fruits stall on its left and a Mee Goreng stall on its right. This area is also famous for the
duck meat koay teow th'ng
and
Tasty Restaurant's Roast Meat.
Wow, imagine you can have so many yummy food within walking distance.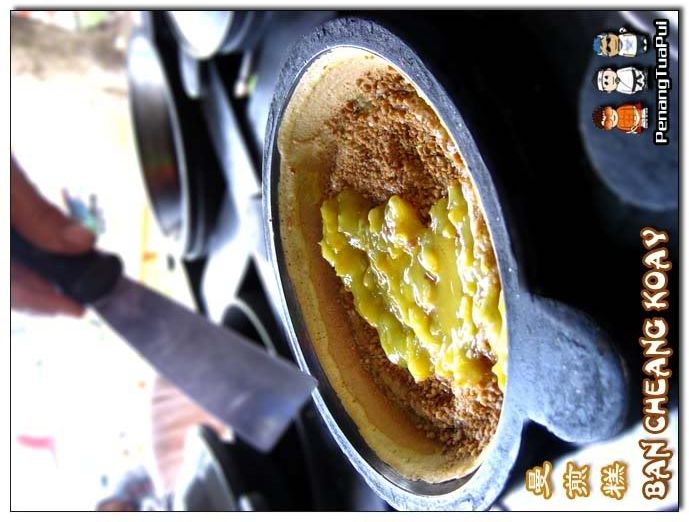 The
Ban Cheang Koay
is pretty much the same if you go anywhere in Penang,
taste wise and appearance wise.
The observation we can see from this stall is that the pancake is
less oily and nicely shaped.
The thickness is also just right so that you do not feel as
if you are eating much of the flour.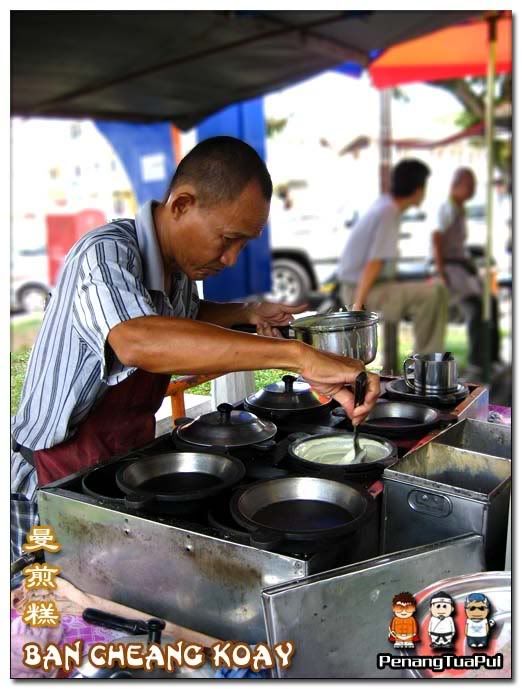 The owner is quite
meticulous and careful
in preparing the Ban Cheang Koay. He will monitor the pancake being cooked in
slow fire
and
does not rush
to make the Ban Cheang Koay even though orders keep coming in.
Also, he is one of the most
hygienic
Ban Cheang Koay
sellers we have come across. You can see all his
utensils are always clean
and he will take the effort to put the
Ban Cheang Koay
nicely into the holder.
We are quite surprise but
still impressed with his workmanship
. Too bad, we are not concerned about workmanship but
rather anxiously waiting
to get the
Ban Cheang Koay
into our mouths .. hehehe :P
Over the conversation with the seller on which type of
Ban Cheang Koay
would taste good or not, Fei Fei told the
Ban Cheang Koay
owner that plain one with
brown sugar
would not taste good.
Instantaneously, the seller
rebutted his opinion
and offered him a piece of
Ban Cheang Koay
with only brown sugar. He said he
could guarantee
this
Ban Cheang Koay
will taste as good as the others. From the tone of his voice, we could tell this seller was
very confident of it.
The
Ban Cheang Koay
did come out nicely but slightly smaller compared to regular ones. It was
solid, crunchy and just excellent in taste.
The seller
proved us wrong
.. or he proved
Fei Fei wrong.
. hahaha.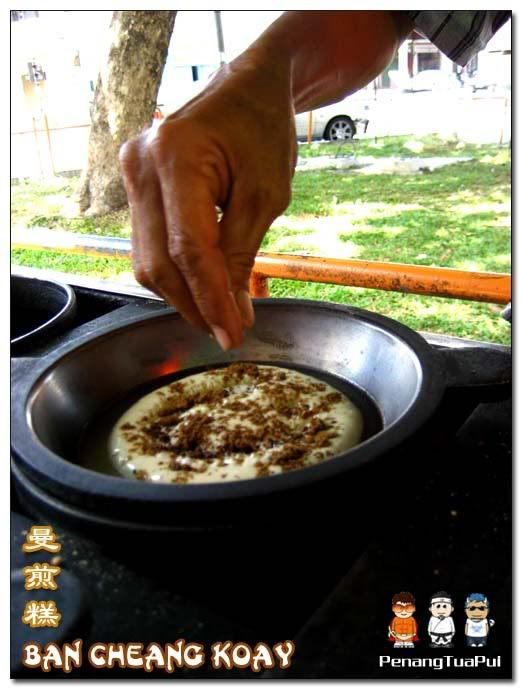 Anyway, the seller said that piece of
Ban Cheang Koay
was
not for sale
, despite us asking for the price. We kept asking and finally he said, "
RM10 per piece
". Told you already, it's not for sale. 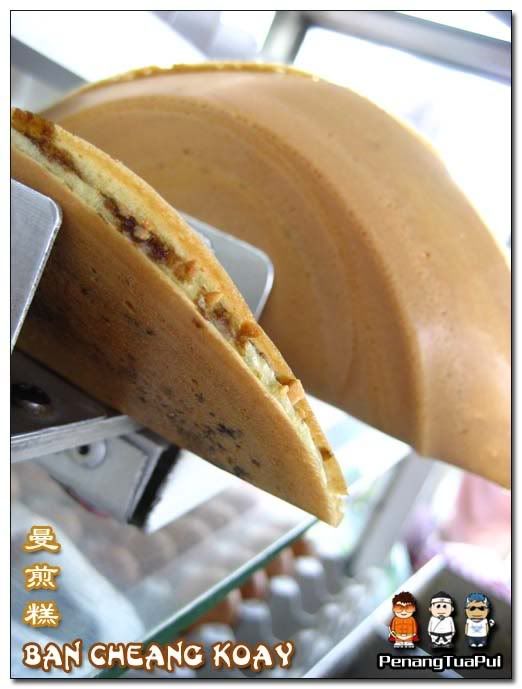 There is a list of
add ons
that you can choose from besides the
original
Ban Cheang Koay
. The stall is operating from
12.30pm till 5.00pm
everyday.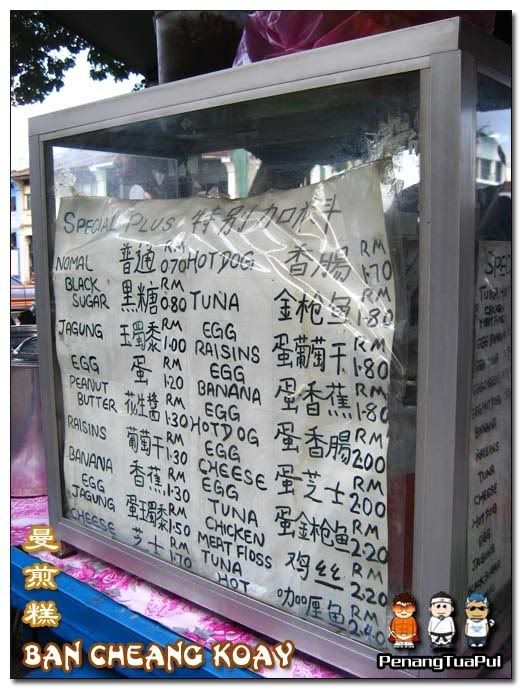 Two hours almost up and we are heading to the
last pit stop

MAP
(
Navigate around to get better view
)
View Larger Map
Master In ACTION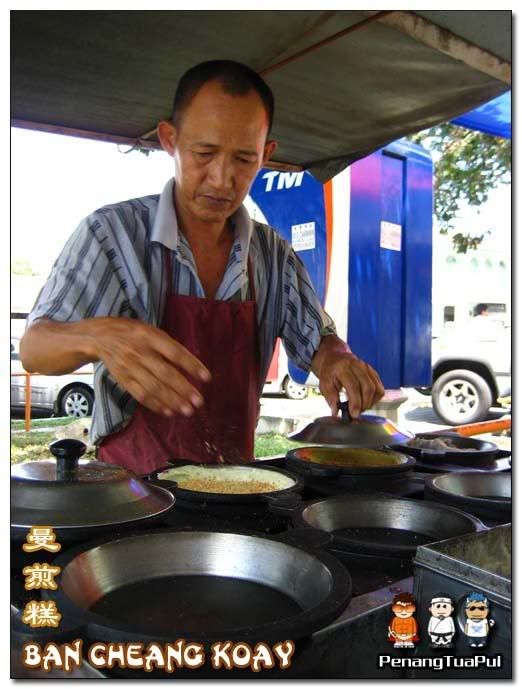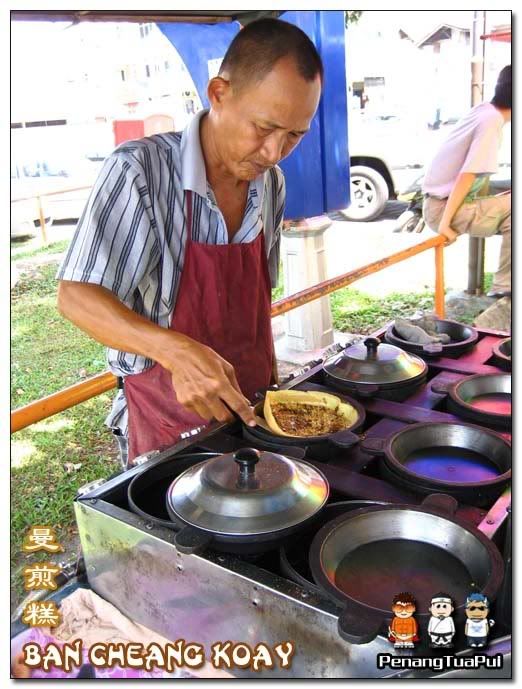 If you enjoyed this post
Subscribe to our feed