Written on 10:50 PM by Penang Tua Pui
Here we are at the
last pit stop
of our
Speedy makan-makan trip I.
Time is
running out
and we did not stop here
for long
. Well, we don't have to… we can just
pack and go
for this one.
This stall is located at the roundabout of
Jalan Free School
, at the opposite
end of Greenlane McDonald's
and just outside
Eng Car Spray Workshop.
It is pretty much
visible
and you will unlikely going to miss it
The stall sells fried items like
pisang goreng
(fried banana),
tnee kueh
(glutinous cake),
green peas, potatoes, yam
and
tapioca rolls
that have been fried till
golden crisp,
which are quite
crunchy
too.
Furthermore, these fried items
do not smell bad
(rancid) as if the oil used to fry these items had been used repeatedly.
Another stall
nearby actually have this smell
.
This is place is open from
noon till 5.00pm
daily.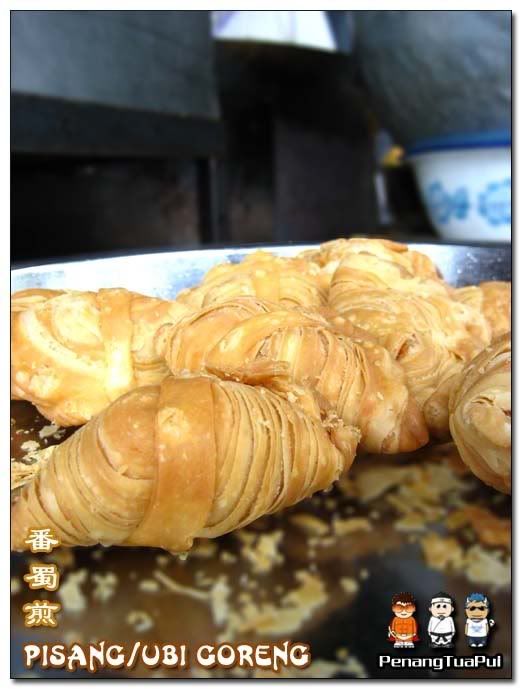 Okay, it has finally
come to the end
of our
Speedy Makan-makan trip
covering
five different
foods within 2 hours. We feel
stuffed and satisfied
, being able to taste various delicacies at scattered locations yet without burning a big hole in the pocket.
Having been able to complete this quest
gives us more ideas
of what to do in our future
2 hour breaks
. We might go
crazier, bolder and more daring
to hunt around for places in order to satisfy our appetites. So…… what do you think?
MAP
(
Navigate Around to get better view
)
View Larger Map
Food Preparation
Menu (Pricing)
Boss
If you enjoyed this post
Subscribe to our feed