Written on 1:25 PM by Penang Tua Pui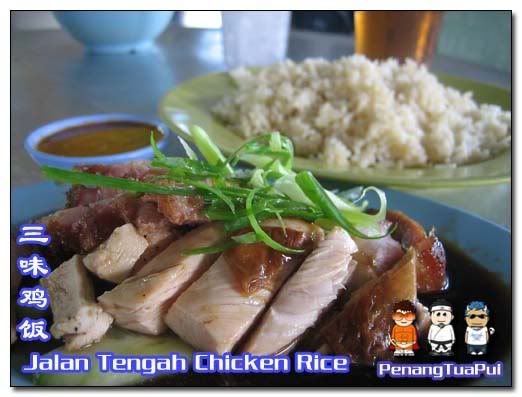 As hosts to our
business associates
, we were obliged to bring them to
taste authentic Penang foods
. Besides, the official business purpose here, they have heard a lot about Malaysia and Penang as well, some have been here a few times, some were first timers.
Of course,
being friendly and proud Penangites,
we were more than happy to show them the
delicacies and sumptuous dishes
in Penang.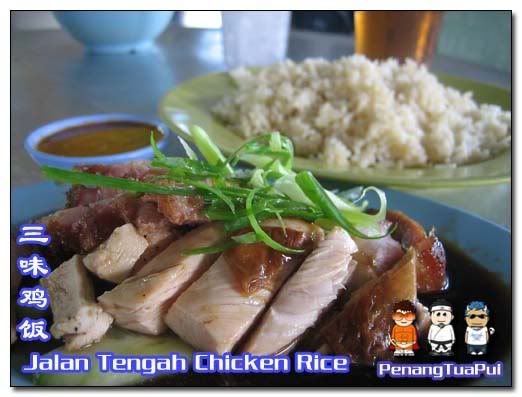 Having lunch outside offices is usually
warm and sweaty
especially under hot burning sun. We brought our guests to try
"

sa bi

" (3 flavored) chicken rice
at
Jalan Tengah.
The shop is located at the
ground floor of a flat
, facing
Persiaran Mayang Pasir
and opposite a mosque. The place is a bit warm but well shaded and good ventilation at surrounding so you will not feel stuffy.
You get choices of
roasted chicken, boiled chicken, Chinese sausages and roasted pork
as well. You can order just one type or mix them all, we believe this place is called sa bi because most people orders
generally 3 types.
The roasted pork sold here
has more fat

(pui bak)
,
so those who prefer pui bak to lean meat may like them. Well, we do!!! :D
Besides the chicken rice, you can order a side dish of
assam fish
sold by the economy rice stall beside. The assam fish did serve as a
great side dish to the chicken rice.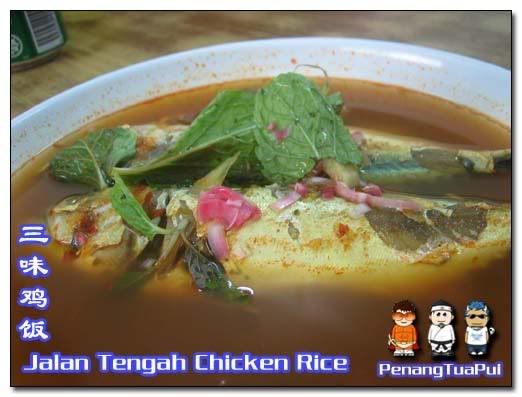 The price per plate for the chicken rice is between
RM3 – RM5+
based on number of choices you ordered. You can pay to the boss directly or just
pay the bills on your own
.
There is a container with loose change located in front of the stall. Mind you, if you ever think that anyone may just
"run away"
with the money, the boss has great
chopping skills
that make them think again and again if they really want to do that….
You become
part of them.
. awaiting to be
chopped.
...
Hahaha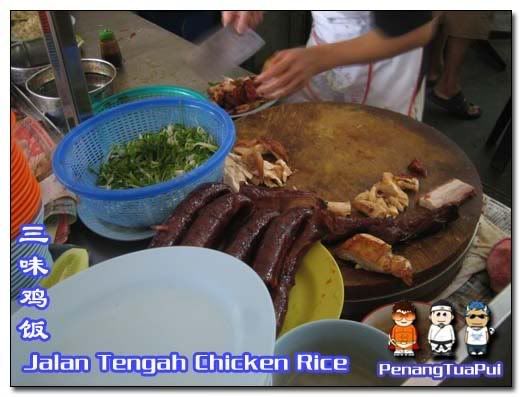 Crowded and Long Queue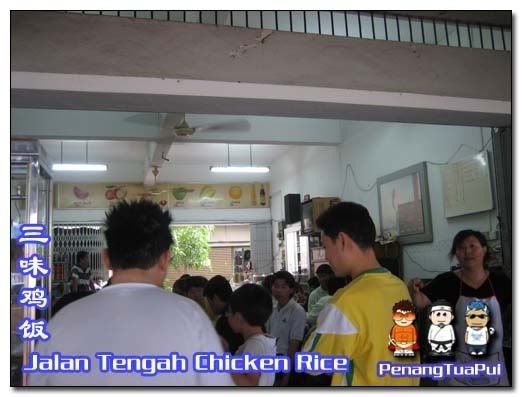 MAP
View Larger Map
If you enjoyed this post
Subscribe to our feed