Written on 11:59 AM by Penang Tua Pui
Once in a while we have a
crazy idea
to drive from one end of Penang island to another end just to have
our lunch.
Yes,
Penang Tua Pui
always have the urge to go the places for lunch
regardless of places
as long as it does satisfy our appetites.
Today, it's not just the
Penang Tua Puisss
(
3 s for 3 fatties
:P) only but also with
Pregnant Mama
who have strong craving for duck rice especially this Pulau Tikus one.
How could we refuse such a request….??
It's a win-win situation, isn't it? 
This
Pulau Tikus duck rice
or
Sin Kong Chiew Hong Kong Style Roasted
is at
Kedai Kopi Kristal Seafood
. This shop is at the junction of Burmah Road and Burmah Lane (Burmah Lane is where Thai and Burmese Temples are located).
The
roasted duck
here doesn't taste
oily and the skin is quite crunchy too.
Probably the roasting style used have
melted the fat underneath
the skin, thus you don't get much fat left. The meat is also rather tender and easy to chew.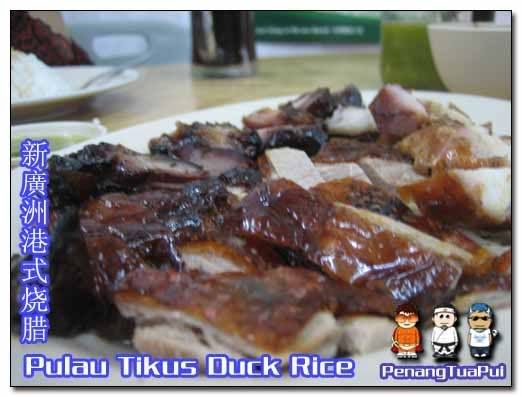 Besides
roasted duck
, we ordered
BBQ pork and roasted pork
as well. We believed both the bbq and roasted duck used similar roasting style that gives those meat its
juiciness and tenderness
but the skin of roasted pork is more crunchy, perhaps due to longer duration of roasting.
There is also a variety of soups you can order and vegetables like
beans sprout
and
"iu chai"
as well. The price on average is about
RM8 per person,
depending on how much dishes you ordered. For us, we ordered
"sah bee" (3 tastes),
soup and vegetables.
Boss in Action
Map
View Larger Map
If you enjoyed this post
Subscribe to our feed